Events
×
Reading mode
17 June 2016 - 17 June 2016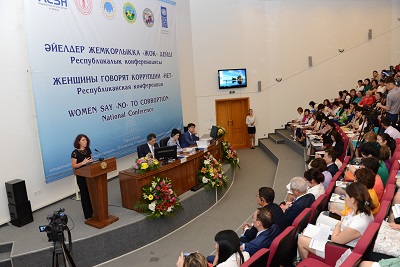 Conference 'Women Say 'NO' to Corruption' has been organized by the National Commission for Women, Family and Demographic Policies under the President of the Republic of Kazakhstan, Akimat of Zhambyl region, Association of Business Women of Kazakhstan and the Regional Hub of Civil Service in Astana.
The event was held in order to increase the level of legal and anti-corruption culture of Kazakhstani society and the development of recommendations for the implementation of effective mechanisms and measures to combat corruption.
In order to familiarize the participants with the best international practices and experiences in the field of combating corruption the Hub invited leading international experts, in particular, Deputy Director of Civil Service Bureau of Georgia Ms Maia Dvalishvili and Senior Officer for External Relations and Protocol of the International Anti-Corruption Academy Ms Simona Marin. The experts participated in the discussions of topical issues in the field of anti-corruption activities and shared the best practices and expertise in this area.
The conference also brought together the representatives of Akimat of Zhambyl region and other central and local government bodies, international and non-governmental organizations, business community.
Whistleblower protection in Georgia_Maia Davlishvili
Women's perceptions of and attitudes to corruption_Simona Marin