Events
×
Reading mode
4 April 2016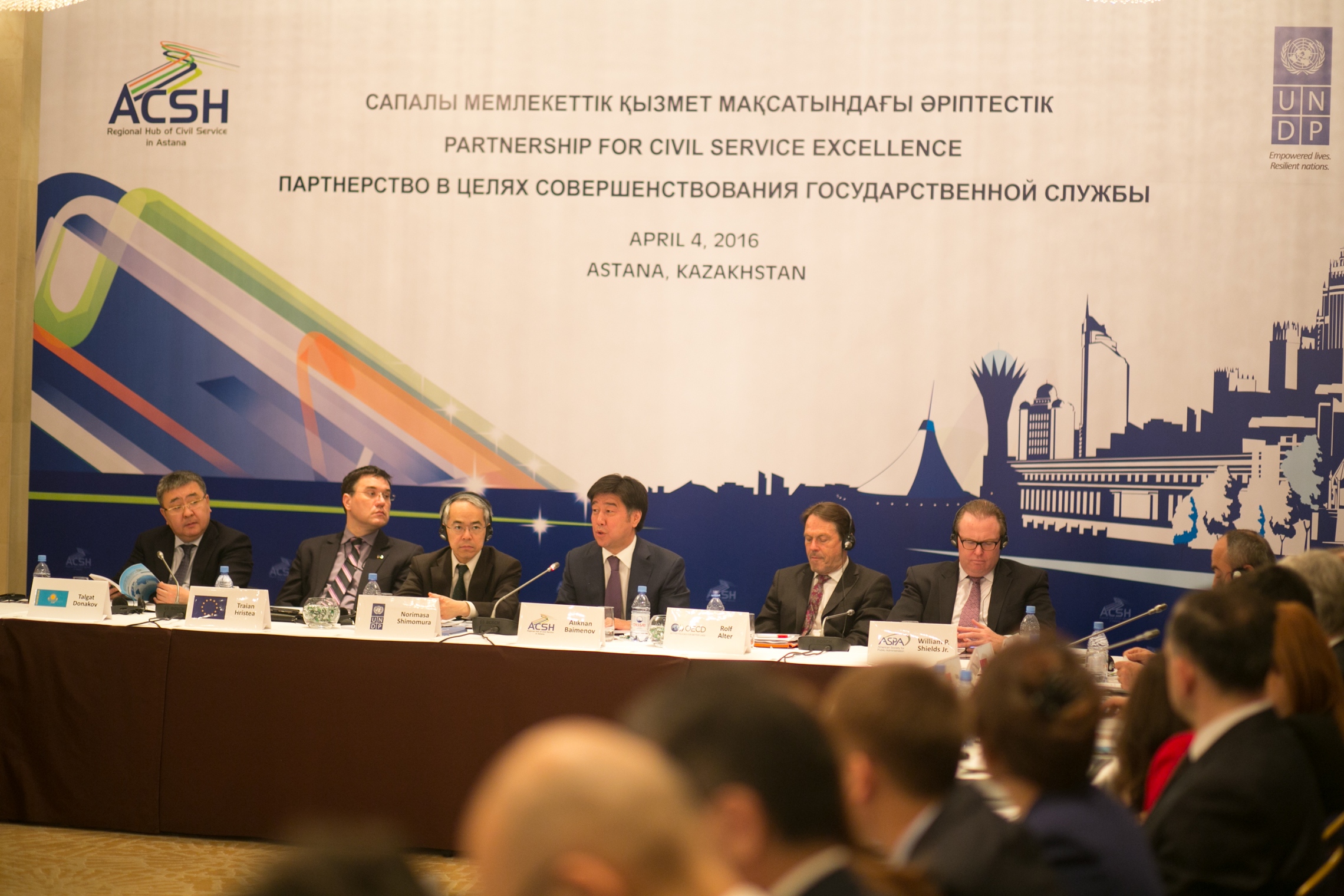 Regional Hub of Civil Service in Astana held a conference on "Partnership for Civil Service Excellence" which was attended by the representatives of more than 30 countries.
Alikhan Baimenov, Chairman of the Steering Committee of the Regional Hub of Civil Service in Astana, Norimasa Shimomura, UN Resident Coordinator and UNDP Resident Representative in Kazakhstan, Talgat Donakov, Minister for Civil Service Affairs of the Republic of Kazakhstan, Director for Public Governance and Territorial Development of the Organisation for Economic Co-operation and Development (OECD)Rolf Alter, Executive Director, American Society for Public Administration (ASPA) William P. Shields Jr., Chairman of the Council of Europe's Group of States against Corruption (GRECO) Drago Kos, Director, UNDP Global Centre for Public Service Excellence, UNDP Singapore Max Everest-Phillips and Distinguished Professor of Public Administration of the Chinese Academy of Governance Song Shiming delivered speeches at the conference. 
During the event the sides exchanged views and experiences on civil service excellence and  discussed the ways of strengthening regional partnerships and the development of an experts network.  Heads of the authorized bodies of the Regional hub state-members,  in particular, Georgia, Armenia, Ukraine and other countries shared their visions for the development of partnership in the field of civil service.
Participants were given an opportunity to consider new and innovative solutions and experiences of different countries in this field and to share ideas for further development of partnership within the framework of the Regional Hub, which was noted as an effective international platform for the continuous exchange of knowledge and experiences in the field of civil service.
Representatives of the Presidential Administration of the Republic of Kazakhstan, the Ministry for Civil Service Affairs of the Republic of Kazakhstan and other state bodies of Kazakhstan, UNDP, OECD, ASPA, the EU also participated at the conference.
ATTACHED FILES
Déontologie PS 4 avril 2016 V5 English
OECD ACSH Seminar April04 Session 1 Eng
OECD ACSH Seminar April04 Astana Session 3 Eng