Events
×
Reading mode
17 October 2017 - 17 October 2017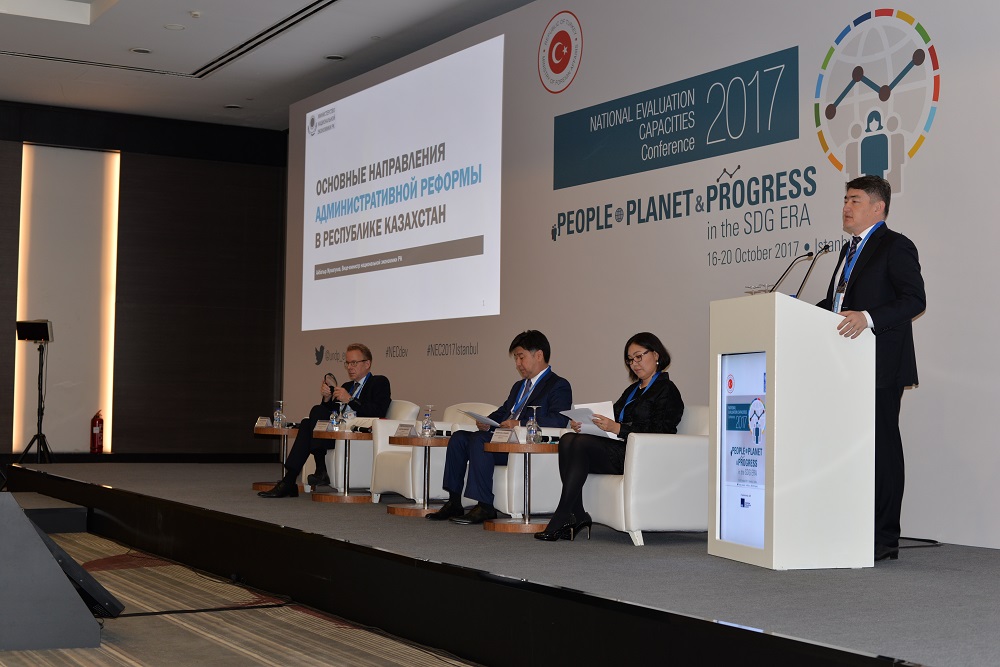 Register on this event
An event to share the experiences in developing national evaluation systems took place in Istanbul, gathering representatives from more than 30 countries. The workshop entitled "Development of the national evaluation system: case of Kazakhstan", organized by the Astana Civil Service Hub in close cooperation with the Government of Kazakhstan and UNDP Kazakhstan, was held in the framework of the 5th Global National Evolution Capacities   Conference (NEC Conference). The workshop gathered the representatives of more than 30 countriesin Istanbul.   
The participants were welcomed by Chairman of the Steering Committee of the Astana Hub Alikhan Baimenov, Vice-minister of National Economy  of Kazakhstan Aibatyr Zhumagulov, UNDP Istanbul Regional Hub Manager Gerd Trogemann and UNDP Kazakhstan Deputy Resident Representative Munkhtuya Altangerel.
The workshop started with the presentation of the Kazakhstan's case of public governance reforms, presented by Vice-minister Aibatyr Zhumagulov, and presentation by Kazakhstan's experts on the national evaluation system development. The presentations included the historic and administrative context of the development as well as methodology and key mechanisms of the Kazakhstan evaluation system.  
Alongside with this, the representatives of the authorized bodies of the Hub's participating countries, including Estonia, Georgia and Azerbaijan, presented their national evaluation systems.
The workshop turned to be a dialogue platform for the exchange of practical experience, innovations and future perspective in developing national evaluation systems, fostering partnerships among its participants. The attendees also discussed the ways of further enhancement of the systems to improve the public services delivery and quality of life of Kazakhstan's citizens.