×
Reading mode
03.10.2014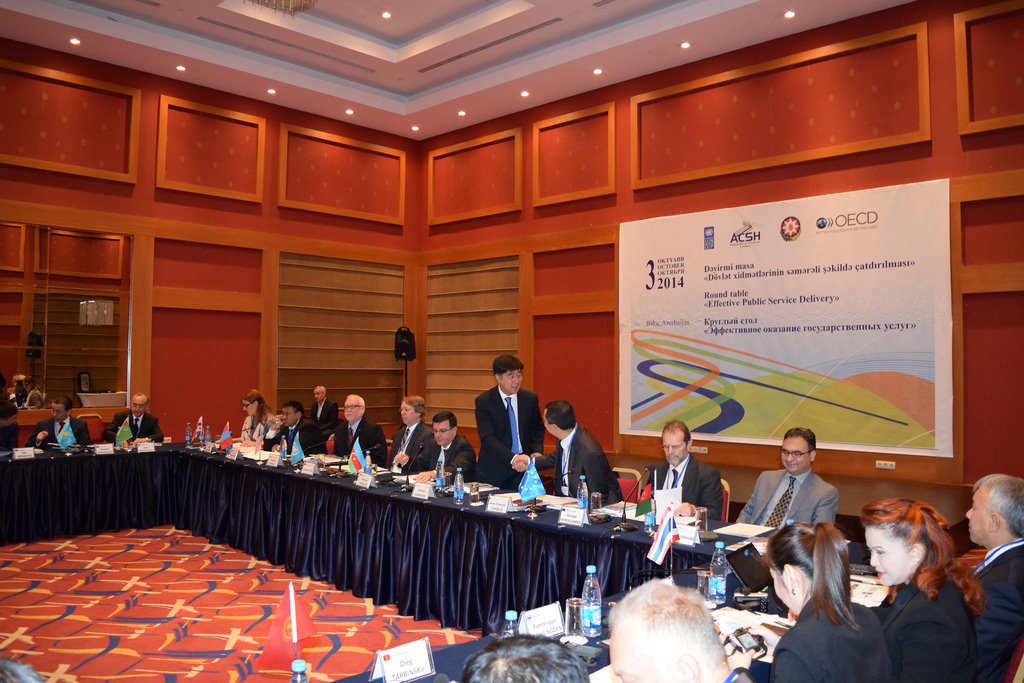 OCTOBER 3, 2014. The city of Baku held a round table dedicated to the effective public service delivery, organized by the RegionalHub of Civil Service in Astana, with the support of the Civil Service Commission under the President of the Republic of Azerbaijan, UNDP and OECD.
The round table was attended by representatives of the competent authorities and public administration academies of Afghanistan, Azerbaijan, Belarus, Georgia, Kazakhstan, Kyrgyzstan, Mongolia, Russia, Tajikistan, Turkmenistan, Thailand, Turkey, Uzbekistan, as well as international organizations.
As part of the roundtable, participants shared their experience in the field of public service delivery. In particular, presentations were made by the Chairman of the Civil Service Council of Mongolia Mr. Tsogoo, Deputy Head of the Civil Service Bureau of Georgia Mrs. Dvalishvili, Deputy Chairman of the Committee of information of the Ministry of Investment and Development of the Republic of Kazakhstan Mr. Arpabaev, Head of the Analysis Work and Development Department of the State Personnel Service of the Kyrgyz Republic Mr. Bakchiev, Head of Department of the Civil Service Office under the President of Tajikistan Mr. Saidmurodov, Rector of the Academy of Public Service under the President of Turkmenistan Mr. Annamuradov, Head of the Department of Philosophy and the ideological work of the Institute of Public Service Academy of Management under the President of the Republic of Belarus Mr. Chueshov, Professor at the Higher school of Economics of the Russian Federation Mr.  Styrin.
The roundtable participants were acquainted with the methodology and results of the "Life Events Strategy" in Central Asia, presented by Project Manager of the OECD Eurasia Competitiveness Programme Mr. Lengellé, as well as with the concepts of the "Tell Us Once" Programme, presented by the director of the Programme, General Secretariat for Government Modernization Office of The Prime Minister of the France Ms. Sorin.
During the Roundtable, participants exchanged their views and discussed the emerging issues of improving the quality of public service delivery and ways of overcoming them.
In addition they discussed the future prospects and opportunities of the Hub for the governments of countries of the region.Roundtable participants emphasized its high potential and expressed their willingness to actively participate in the activities of the Regional Hub.
During his stay in Baku Chairman of the Steering Committee of the Regional hub had bilateral meetings with UN Under-Secretary-General/UNDP Administrator Helen Clark, as well as representatives of the Public Service Commission of the Kingdom of Thailand.
The parties noted the success and the great benefit of the Regional Hub for its participating states and discussed further cooperation perspectives.