×
Reading mode
07.12.2015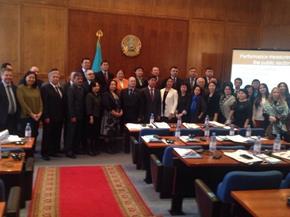 The workshop on Developing Research Capacities in the ACSH participating countries was organised as a result of the findings of the second baseline study of the ACSH , as this topic was one of the most highly demanded activities.
Hosted by the Academy of Public Administration under the President of Kazakhstan – one of the ACSH's strategic partners – the event attracted around 50 researchers from ten countries, and one international organization, working in the field of civil service. Coming from as far as FYR of Macedonia, Bosnia and Herzegovina, Georgia, Azerbaijan, as well as from other participating countries of the ACSH, the participants met for three days in Astana.
The three-day affair started with the opening remarks from the Chairman of the Steering Committee of the ACSH, Alikhan Baimenov, the Rector of the Academy of Public Administration, Bolatbek Abdrassilov, and the Deputy Resident Representative of the UNDP Country Office in Kazakhstan, Munkthuya Altengerel.
Presenters of the workshop were Piotr Modzelewski, PhD., Assistant Professor at University of Warsaw on the Evolution of the Public Sector; and Nicola Bellé, SDA Assistant Professor of Public Management and Policy of the Bocconi School of Management, Bocconi University both of them being proficient in qualitative and quantitative research methods in public administration and public policy.
On the last day of the workshop, the Project Manager, Head of Research Team of the Regional Hub of Civil Service in Astana, Yernar Zharkeshov, presented the results of the second Baseline Study of the Regional Hub of Civil Service in Astana and emphasized the demand-driven agenda of the ACSH.
Following his remarks, the participants were divided into three groups, where they designed a joint research proposal on the topic of their choice using the research methods presented by professors Belle and Modzelewski.  The three groups brought in best practices from their experiences and made comparisons between Kazakhstani practices and those of their counterparts. 
It should be noted that apart from the learning process, the workshop was an opportunity for networking, which was successfully demonstrated by all groups.