News
×
Reading mode
18.12.2017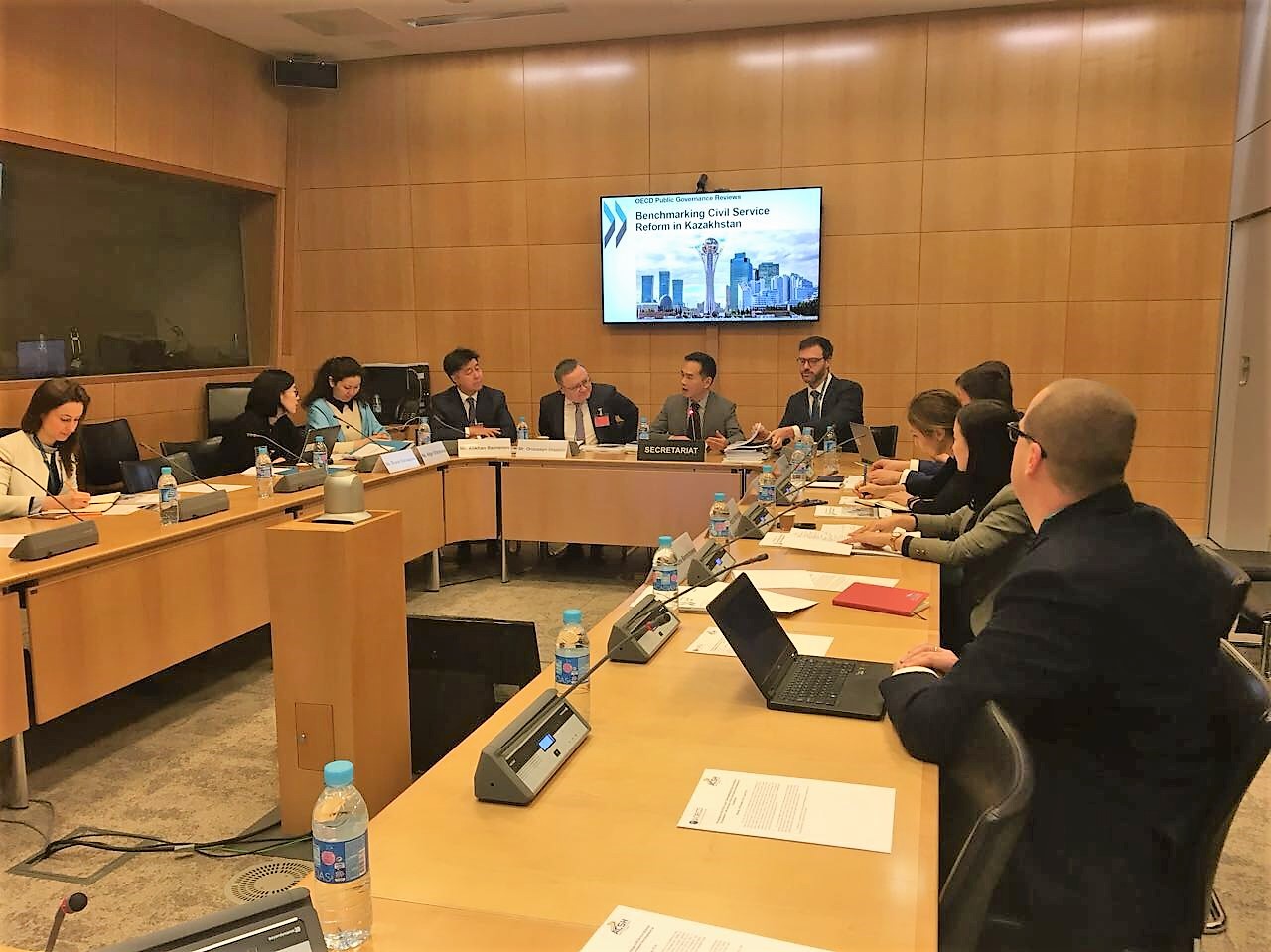 A round table was held at the OECD Headquarters in Paris to discuss the OECD draft report "Advancing Civil Service Reform in Kazakhstan: benchmarking against OECD countries" with participation of representatives from Administration of the President of the Republic of Kazakhstan, the Astana Civil Service Hub, Agency for Civil Service Affairs and Anti-Corruption of the Republic of Kazakhstan and the Ministry of Information and Communications of the Republic of Kazakhstan.
Edwin Lau, Head of the Reform for Public Sector Division (OECD), noted the significant progress of Kazakhstan in promoting the best practices in civil services, including the professional development of public servants, further development of the senior public service, development of a unified framework of competencies, introduction of meritocracy principles with the goal of building a professional public apparatus within the framework of the country's strategic development agenda.
Alikhan Baimenov, Chairman of the Steering Committee of the ACSH, emphasized that this research, being the first of its kind among the CIS countries, was completed on the stage of introduction of a new system for effectiveness of state bodies that is important for reforming civil services of Kazakhstan. He also expressed confidence that the study results will be useful in forming the further agenda of reforms in the field of human resources management in the public sector.
In general, the study is a comparative analysis of Kazakhstan's practices in strategic areas of human resource management in comparison with OECD countries. The study compares Kazakhstan's actual data in the following areas: public service management, skills and competencies of public servants, efficiency of the public service system and labor remuneration, and development of management personnel derived from the Strategic Resources Management Survey in central/federal governments of OECD countries, as well as case studies conducted within the OECD Working Group on Employment and Public Service Management. The study was conducted with participation of the Agency for Civil Service Affairs and Anti-Corruption with the financial support of the Astana Hub.
Representatives of the Ministry of Information and Communications of Kazakhstan also presented the state program "Digital Kazakhstan" within the framework of the round table as well the department's work within the electronic government. OECD experts commented positively about Kazakhstan's plans, emphasizing that the program reflected the main characteristics of digitalization: user orientation, use of large data, proactive services, etc.
OECD is a co-founder and one of the main partners of the Astana Hub in civil services, that uses the Hub site to promote their standards and principles among the region's countries and the countries participating in the Hub.