News
×
Reading mode
01.02.2016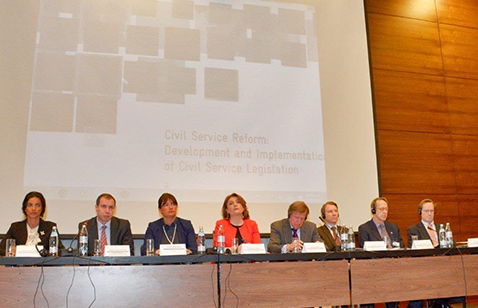 In Tbilisi took place an Inter-Regional Round table on "Civil Service Reform: Development and Implementation of Civil Service Legislation" which was organized by the Civil Service Bureau of Georgia. Heads of the Presidential Administration and the Government of Georgia, representatives of state bodies and public institutions of the countries in the region, as well as leading international experts in the field of civil service attended the round table.
In his speech, Chairman of the Steering Committee of the Regional Hub of Civil Service in Astana Alikhan Baimenov outlined a number common challenge of civil service development in the region, including lack of knowledge and experience in the field of HR management. He noted that in order to improve the civil service system these countries are making new laws on civil service. "There is an intensive process of transformation of society and the role of the government. Civil services are facing new challenges", - said Baimenov.
Regional Hub in Astana helps governments of the region to build the capacity of civil service. "Through the activities of the Hub authorized state bodies of the region have become closer to each other. Along with Singapore, Astana is becoming the knowledge and experience center in the sphere of civil service and the center of gravity for the authorized bodies of the region."- highlighted the Chairman of the Steering Committee of the Regional Hub. He also noted that the third stage of the civil service reform is being implemented in Kazakhstan in the framework "Plan of the Nation - 100 concrete steps".
There also were discussed issues of civil service reform in Georgia, including the methods effectively combating against corruption in law enforcement. Alikhan Baimenov underlined that: "Every new successful experience of any regional country is important in order to use it in other countries."
The Regional Hub of Civil Service in Astana has established as an institutional base for the incessant exchange of experience and knowledge in the field of civil service. At the beginning there were 25 member states and nowadays Hub consists of 32 member states, including OECD, CIS, Central Asia, ASEAN states and the 5 international organizations.