News
Regional Networking Forum for the Arab States, Europe and the CIS on South-South and Triangular Cooperation Held in Astana
×
Reading mode
15.06.2017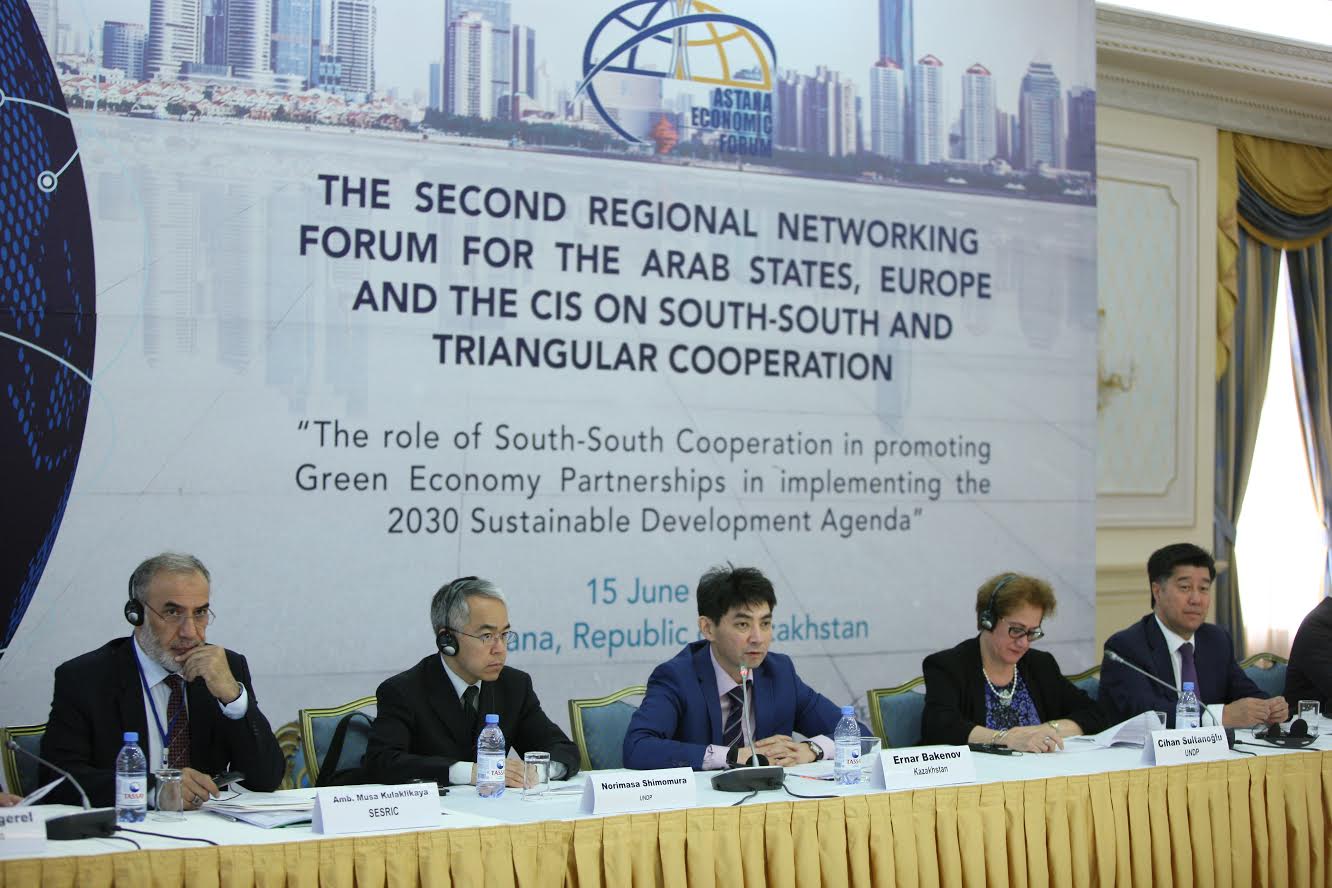 Key decision-makers and practitioners coordinating development cooperation from over 40 countries of the Arab States, and the Europe and the CIS regions, gathered at the Second Regional Networking Forum organized on the sidelines of the Astana Economic Forum 2017 to discuss the role of South-South and triangular cooperation in promoting green economic partnerships.
The leadership of the Ministry of National Economy of the Republic of Kazakhstan, the UNDP regional bureaus for Arab States and for Europe and the CIS, the United Nations Office for South-South Cooperation (UNOSSC), Regional Hub of Civil Service in Astana (ACSH), Islamic Development Bank (IDB), Statistical, Economic and Social Research and Training Center for Islamic Countries (SESRIC), as well as high-level representatives of other international organizations participated at the event.
The Forum was opened by Vice-Minister of National Economy of Kazakhstan Mr. Yernar Bakenov and Chairman of the Steering Committee of the ACSH Mr. Alikhan Baimenov, Senior Technical Cooperation Specialist, IDB Mr. Sabri Er and Director General, SESRIC Mr. Musa Kulaklikaya.  
Assistant Secretary-General of the United Nations and Director of the UNDP Regional Bureau for Europe and the Commonwealth of Independent States (RBEC) Cihan Sultanoğlu addressed the participants and presented the first regional report South-South and Triangular Cooperation: towards Sustainable Human Development in Europe and the CIS.   
During the Forum, the participants discussed the particular cooperation modalities to advance interregional cooperation with more specific thematic focus to the role of the private sector in transferring the knowledge and expertise using the South-South format.