News
×
Reading mode
29.03.2016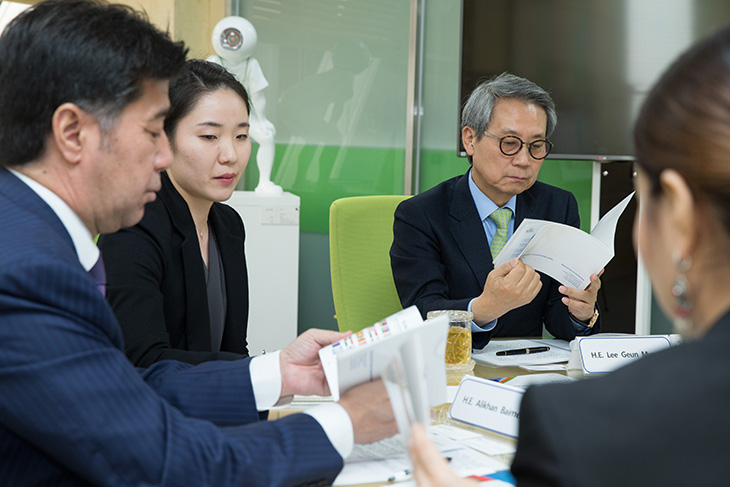 In the framework of a working visit to the Republic of Korea, the Chairman of the Steering Committee of the Regional Hub of Civil Service in Astana, Alikhan Baimenov, met with the Minister of Personnel Management of Korea Mr. Lee Geun-Myeon.
During the meeting the Chairman of the Steering Committee briefed Mr. Lee on the main directions of the Hub's activities and main aspects of the Plan of the Nation "100 concrete steps", and on the implementation of the five institutional reforms in Kazakhstan, especially on further professionalisation of the state administration apparatus.
Mr. Lee praised the Regional Hub's activities as an institutional base for the incessant exchange of experience and knowledge in the field of civil service and he expressed his interest in further cooperation in this field.
During this working visit Alikhan Baimenov also held a bilateral meeting with Mr. Ok Suk Donk, the President of the National Institute for Personnel Development of the Republic of Korea. The two sides discussed the possible directions of cooperation between the two institutions, possibly preparing joint thematic studies, organising joint workshops on capacity building of civil servants of the Hub's participating countries based on South Korean experience, as well as extending bilateral expert networks.
During the visit, meetings were also held with Mr. Park Dec-COO, Head of the Centre of the OECD in Korea, and Mr. Pan Suk Kim, President of the Asian Public Administration Association (AAPA), during which the two sides outlined further prospects for cooperation.