News
Representatives of the Astana Hub's Participating Countries Study Kazakhstan Experience in Public Services Development
×
Reading mode
24.10.2017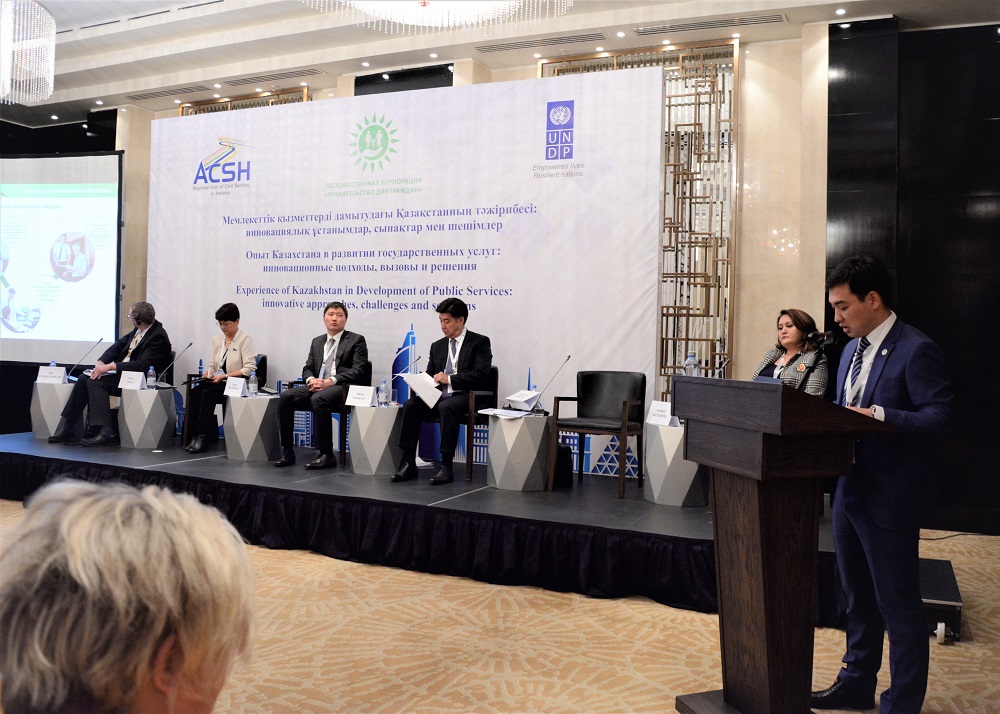 The participants of the workshop, jointly organized by the NJSC "State Corporation "Government for Citizens" and the Astana Civil Service Hub, got acquainted with   Kazakhstan's experience in public service delivery and discussed the opportunities and prospects for implementing innovative projects in public governance.
 The workshop agenda was complex and consisted of presentations, panel discussions and visits to Public Service Centres (PSCs) of Astana, including the specialized one. The participants also attended the modernized situation centre of the state corporation, which o monitors online he current work of PSCs by CCTV throughout the country.
The workshop participants were welcomed by Mr. Kairat Balykbayev, Vice-Minister of Information and Communications of the Republic of Kazakhstan, Mr. Alikhan Baimenov, Chairman of the Steering Committee of the Astana Civil Service Hub, Mr. Max Everest-Phillips, Director of the UNDP Global Centre for Public Service Excellence in Singapore, and others.
Speakers noted that today Kazakhstan takes the 27th place in the UNDESA e-government development index, which confirms significant efforts of the government to simplify public service delivery procedures for the population.
Today, the public services are delivered through E-government portal (more than 700 services), PSCs of the NJSC "State Corporation "Government for Citizens" (548 public services) and mobile application "mgov" (more than 80 services). It is worth mentioning that "mgov" was recognized as the best "mobile government" application at the international government summit in February 2017.
The workshop was attended by the representatives from 12 participating countries of the Astana Hub. The participants expressed their confidence that a detailed study of the Kazakhstani experience will enrich the database for information and analytical support of the reforms in the countries of the region and facilitate the establishment of an effective dialogue on sharing experience in public service delivery.
For the reference:
The workshop is a continuation of the Peer Learning Alliance series that apply the peer-to-peer learning principle based on the Effective Institutions Platform guide. The Alliance was launched by the Astana Hub in April 2016, which resulted in the development of three case studies on public service delivery in Kazakhstan, Azerbaijan and Georgia. In May 2017, the experience of these three countries was presented at the international workshop on "Re-inventing Public Service Delivery through One-Stop-Shops" in Singapore, co-organized jointly by the Government of Kazakhstan and the Astana Civil Service Hub.
Kazakhstan_State Corporation Government for Citizens